Welcome to Leitheatre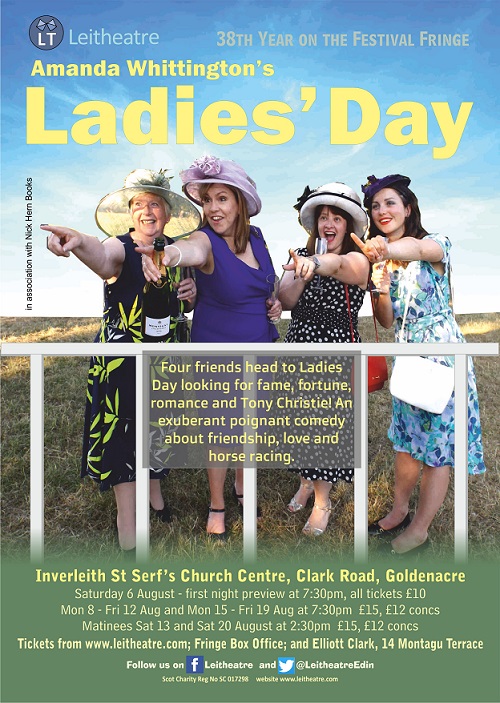 We are very excited to be back at the Edinburgh Festival Fringe! Our production of the comedy Ladies' Day by Amanda Whittington in will be presented at Inverleith St Serf's Church Centre, Clark Road.
Running time 2hr 15m with 1 interval.
You can now buy tickets from out website, click here BOX OFFICE or on 'Buy tickets' button on the banner above.
PLEASE NOTE THAT 2 for 1 TICKETS FOR MONDAY 8TH and TUESDAY 9TH AUGUST ARE ONLY AVAILABLE FROM THE FRINGE WEBSITE OR ON THE DOOR AT THE VENUE.
You can buy tickets in person from Elliot Clark Flowers, 14 Montagu Terrace, Edinburgh EH3 5QX during shop opening times.
If you want to find out more about the club, please use the 'Contact Us' button above.
Leitheatre is an amateur theatre group based in Edinburgh. We usually produce three full length productions per year, including one in the Edinburgh Festival Fringe. We also take part in the Scottish Community Drama Association (SCDA) One Act Play Festival. Our productions take place in the Church Hill Theatre, the Studio Theatre and Inverleith St Serf's Church Centre. We also produce a Burns Show in January to celebrate the birth of Scotland's Bard, Robert Burns. This show is performed for other organisations such as Golf Clubs, Care Homes and other social clubs. If you are interested in booking the Burns show, please get in touch via the 'Contact Us.' button above.
On the Our History page, you will read how our roots are in Leith but we perform in venues and theatres all over Edinburgh. We are not connected to Leith Theatre, in Ferry Road. You can find information about that organisation here Leith Theatre Trust .